© 2002/2003/2004 by Matthias Arndt <marndt@asmsoftware.de>
The GNU General Public License applies to this project. See the file COPYING for details.
Introduction
Quadromania is a board game. Your task is to restore the originating board filled with red stones. The computer will pick a named amount of 3×3 tile sets and will flip the colours of the selected tiles.
This means a red tile will become green, a green one the next colour in the amount of colours, red again in the simplest case. You select the amount of colours to use and the amount of initial rotations.
In the running game click on the center point of a 3×3 tile set to exchange that selected set following the rules above. Restore the board full of red stones before you reach the limit of maximum turns.
Quadromania is a work in progress. I currently lack the time to do a decent development on it. However the current alpha release is somewhat playable and working.
Screenshots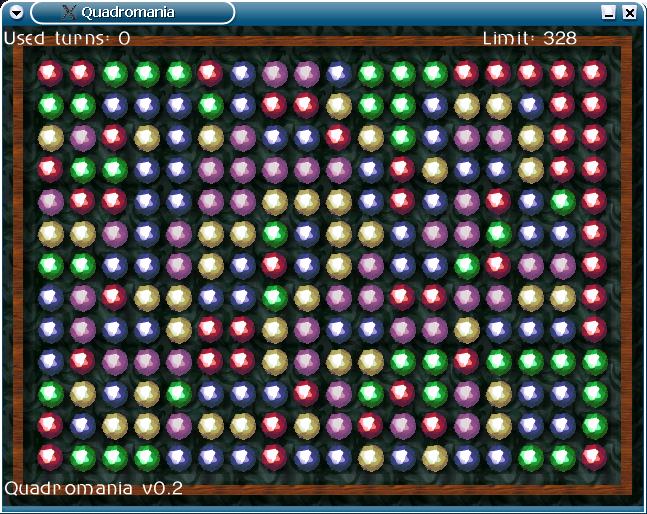 Requirements
GNU C Compiler (preferrably 3.2 but works with older ones as well)
GNU Make
SDL
SDL_image
You can find SDL and SDL_image at the SDL website.
The current release adds support for autoconf and automake.
Downloads
NOTICE: This is currently alpha software. Do not expect everything to work. It may crash or even do not compile!
Each archive contains a file called INSTALL. This contains installation instructions.