© 1999/2002 by Matthias Arndt <marndt@asmsoftware.de>
This is a FREEWARE game published by ASM Software. It is the first ever ST game from ASM Software that gets published!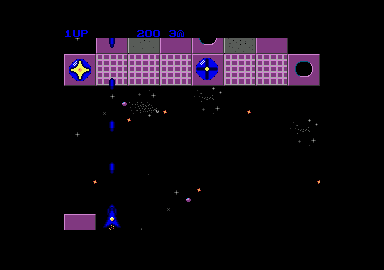 This is a little shoot'em up game for up to 2 players. It was build with SEUCK.
Requirements:
Atari ST computer with 512k of RAM (or even more)
ROM TOS (this game has not been tested with MultiTOS, Mint or other multitasking OSes on the ST)
colo(u)r display
one (or preferrably two) joystick(s)
This game has been tested on an Atari 520STM, an Atari 1040STFM, STEEM and Hatari.
A user reported it does work on STEs as well!
Further information and instructions can be found in the provided README file. The game comes as a disk image in MSA format ready to be used with any popular Atari ST emulator. You can write it back to a floppy disk and play the game on a real Atari ST machine as well.
Simply boot the disk and doubleclick on MEGASTAR.SCK.
Make sure to install RUNGAME.PRG as an application with *.SCK files. The provided DESKTOP.INF does this automatically.
Download , play and spread it!
Download .MSA disk image (77.9 K)
Download file version (60.2 K)